Mackinac Bridge tokens and anniversary posters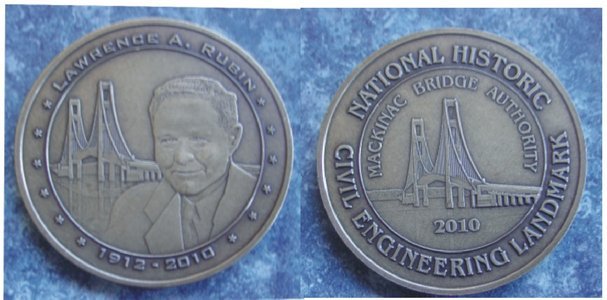 If you've got a Mackinac Bridge fan in the family, the Mackinac Bridge Authority (MBA) has anniversary posters, commemorative tokens, and medallions available for purchase by mail or in the authority's administration building in St. Ignace.
"Admirers of the bridge who missed out on the first run of anniversary posters or didn't know bridge tokens are still available have another opportunity to get these commemorative items," said MBA Executive Secretary Bob Sweeney.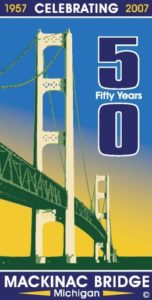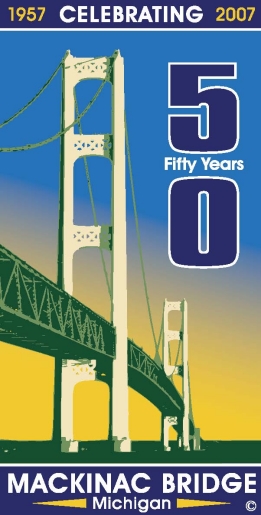 The authority reprinted the four poster designs from the bridge's 50th anniversary due to popular demand. In 2007, the limited-quantity original posters ("Mighty Mac," "Connecting Peninsulas," "50th Logo," and "Mackinac Bridge") went quickly.
The posters are available in four designs, for $10 each or $30 for any combination of four. View Posters
 Also available is a series of tokens, and medallions offered in gift packs, including:
– 2000 Mackinac Bridge – Michigan's Greatest Engineering Feat of the 20th Century
– 2002 The Opening of the Bridge View Park
– 2003 P.M. Brown "Father of the Mackinac Bridge"
– 2004 50th Anniversary of the Start of Mackinac Bridge construction
– 2005 MDOT 100th Anniversary
– 2008 Michigan State Ferries (8 available, including the Ariel, Saint Ignace, Mackinaw City, Straits of Mackinac, City of Cheboygan, City of Munising, City of Petoskey, and Vacationland)
– 2007 Dr. David B. Steinman/50th Anniversary
– 2010 Priority Mail U.S. Postage Stamp
– 2010 National Historic Civil Engineering Landmark/Lawrence A. Rubin medallion
Images of the tokens, and medallions are available online. The gift sets are $10 each, rolls of tokens are $96, and shipping and handling varies by quantity ordered.