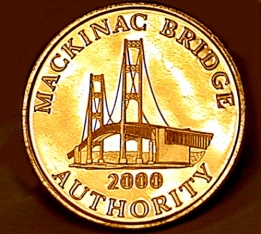 Now available for sale is the 2010 National Historic Civil Engineering Landmark/Lawrence A. Rubin Medallion. To order this or previous gift packs stop at the Mackinac Bridge Administration building or download and mail in the order form with the correct postage.
Download Gift Pack/Medallion Order Form
Electronic Online Token Gift Packs/Medallion Order Form
Commemorative Token Gift Packs/Medallions
We are pleased to offer Mackinac Bridge commemorative token gift packs/medallion. Collectors and members of the public can purchase coins in gift pack sets for $10 per gift pack.
Click on Photo Gallery for enlarger image:
Commemorative token list:
2000 Mackinac Bridge – Michigan's greatest engineering feat of the 20th century – SOLD OUT
2002 The Opening of the Bridge View Park
2003 P.M. Brown "Father of the Mackinac Bridge"
2004 50th anniversary of the start of construction of the Mackinac Bridge (Bridge Workers)
2005 MDOT 100th Anniversary
2006 Michigan State Ferries – (8 different tokens released)
Ariel, 1923
Sainte Ignace, 1924
Mackinaw City, 1924
Straits of Mackinac, 1928
City of Cheboygan, 1937
City of Munising, 1938
City of Petoskey, 1940
Vacationland, 1952
2007 Dr. David B. Steinman / 50th anniversary
The Mackinac Bridge Authority offers items for sale at our Customer Service Center, which is open 24/7, or through the mail.  View our items, download the accompanying order form and mail it in to get your Mackinac Bridge Authority items.