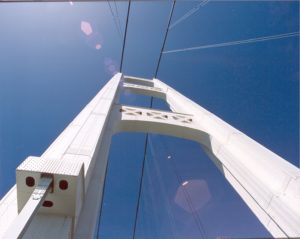 The Mackinac Bridge Authority (MBA) holds a drawing once per year each August, and randomly chooses 25 non-profit organizations to receive a tower tour certificate to be raffled or auctioned for charitable purposes.   The certificates can be used May 1st through October 15th of the following year and are good for two people.  Organizations can download the form below and mail it back to be entered into the drawing.
Our tower tour certificates do not expire; non-profit organizations that won a certificate in our August 2019 drawing may keep their certificate until they can hold their auction or raffle, even if that means waiting until 2021.  Due to social distancing requirements, tower tours are not being scheduled until further notice.
Because we are not scheduling tours at this time, the MBA canceled the August 2020 tower tour certificate drawing.  All applications received to date will automatically be entered into the August 2021 drawing.
TOWER TOUR DRAWING APPLICATION
List of Non-profit organizations that won a 2020 tower tour certificate in August 1, 2019 drawing