Mighty Mac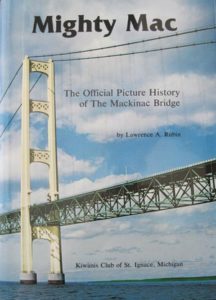 The official picture history of the construction of the Mackinac Bridge. Two hundred and four captioned photographs of the building of the Bridge describe in layman's language the methods and techniques used to get a toe-hold in the deep and turbulent Straits of Mackinac; erect the twin towers as high as the Washington Monument; connect the four story high girders to support the four lane roadway nearly five miles long. It was opened on November 1, 1957 as scheduled 42 months earlier when ground was broken on May 6, 1954.


Rubin served as the executive officer of the Mackinac Bridge Authority from its creation in 1950 until he retired 33 years later. A native of near Boston, MA, he lived in St. Ignace, Michigan until his death in 2010.
Before the Bridge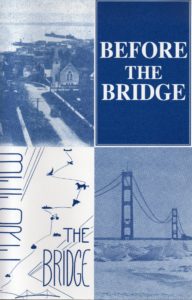 Before the Bridge, a commemorative publication timed to appear before the Mackinac Bridge opened to traffic in November 1957, was a project of the St. Ignace Kiwanis Club.  The book was researched and written primarily under the leadership and supervision of Club member, Emerson Smith.
Copies of the book remained unavailable for decades until a grant from the Michigan Council for Arts and Cultural Affairs helped the Club produce a limited-edition printing in 2003.  Limited supplies remain available.
The 1957 directory is interesting, historical, and still very useful today.  It will inform future generations of facts about the individuals and families, as well as the businesses and organizations which were in St. Ignace before the bridge.
To purchase a copy of the Mighty Mac or Before the Bridge:
Enclose a check or money order to St.Ignace Kiwanis Club
$20.00 per book + $4.00 per book S&H.
Mail to:
St. Ignace Kiwanis Club
PO Box 76
St. Ignace, Michigan 49781
stignacekiwanis@gmail.com
Building the Mighty Mac: The Story of Building the Mackinac Bridge DVD

The  Building the Mighty Mac DVD is available by contacting the St.Ignace Chamber of Commerce at:
The St. Ignace Chamber of Commerce
560 N State Street
St. Ignace, Michigan 49781
906-643-8717
info@saintignace.org