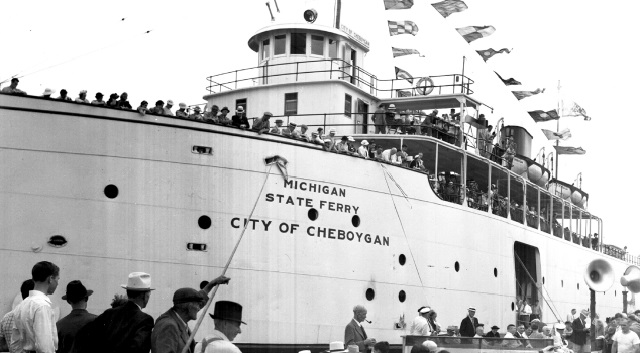 When the Mackinac Bridge opened to traffic on November 1, 1957, car ferry service between Mackinaw City and St. Ignace ended. In 34 years of service, the ferries operated by the Department of State Highways carried approximately 12 million vehicles and more than 30 million passengers across the Straits of Mackinac.
Most travelers, including many who made regular crossings, viewed the passing of the state ferries with mixed emotions. The new $100 million bridge came as a blessing and a necessity, boosting tourist traffic in the Upper Peninsula and helping economic development. Driving by auto high above the blue waters of the Straits is a memorable experience. But the leisurely five-mile ferry trip was a thrill of its own. For many passengers, it was their only experience aboard a ship.
The majestic panorama of the Straits, with Mackinac Island in the background, is one that few who stood on the decks of the ferries will forget. Even more exciting were the winter crossings aboard the icebreaker Vacationland as it crunched through massive ice floes as if they were paper boxes.
During the November deer hunting season, thousands of hunters jammed the docks and the adjoining highway while they waited to board the ferries. Patient veterans of the Straits crossing would calmly munch hot pasties sold by car-to-car vendors and feed the ever-present sea gulls. Long delays were infrequent, however, and service went on day after day and year after year with few interruptions.
The state ferry operation, in effect a highway over water, was unique in being the first service of its kind operated by a state highway department. It came into being through an act of the State Legislature, which reacted to public displeasure with the infrequent and expensive ferry service for motor vehicles provided by railroad boats.