Mackinac Bridge Authority approves escort fees for oversize commercial vehicles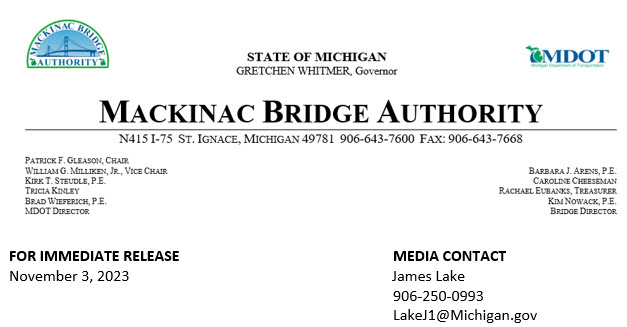 To recoup the labor and equipment costs of providing escorts to oversize commercial vehicles crossing the Mackinac Bridge, the Mackinac Bridge Authority (MBA) today approved a new $100 fee for providing that service in the future.
The new fees, to be charged for escorting heavy, overwidth and overlength vehicles, will be charged beginning Jan. 29, 2024. The Authority approved the new fee at its meeting today in Traverse City.
Oversize loads include commercial vehicles that weigh in excess of 80,000 pounds, are wider than 10 feet, or longer than 90 feet.
Review of average staff time, vehicle use, administrative costs, and necessary software upgrades, the Authority determined that a fee of $100 per vehicle would cover MBA expenses to provide the service. The bridge sees an average of about 1,700 oversize commercial vehicles each year.