Falling ice prompts temporary Mackinac Bridge closure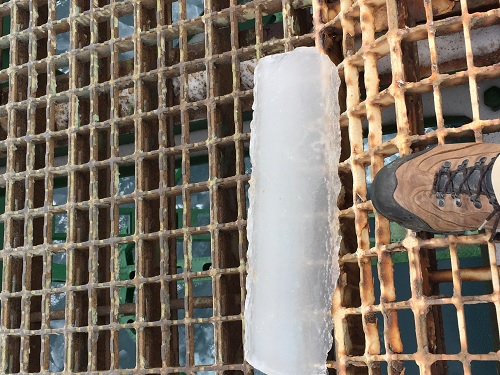 Accumulated ice falling from the Mackinac Bridge has prompted bridge officials to close it to traffic temporarily as a safety precaution.
Warmer temperatures and increased sun have loosened ice that formed on the bridge's towers and cables, causing some of it to fall on the driving lanes below. The Mackinac Bridge Authority (MBA) has closed the bridge until the ice is clear or has stopped falling, which in the past has taken an average of a few hours, depending on weather conditions.
The bridge was closed for several hours on Saturday due to falling ice.
Updates will be posted on the Mackinac Bridge website.
Photo is of a chunk of ice that fell from the Mackinac Bridge on Saturday.
See a video of ice falling from the south tower and cables of the Mackinac Bridge!