Mackinac Bridge Authority congratulates Michigan SOS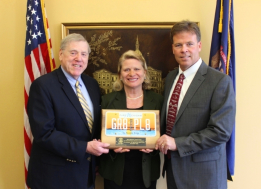 Thrilled to have the Mackinac Bridge featured on Michigan's license plate, the Mackinac Bridge Authority (MBA) joined in congratulating Michigan Secretary of State Ruth Johnson on selection of the design featuring the iconic bridge as the world's best new plate.
"It's a terrific honor that Secretary Johnson chose to have the Mackinac Bridge represent Michigan on a license plate, and that the image has now earned this prestigious award," said MBA Board Chair William H. Gnodtke. "We're very appreciative of Secretary Johnson's work with the authority to develop this stunning plate design, which highlights a Michigan engineering marvel recognized the world over."
Since 1970, the Automobile License Plate Collectors Association (ALPCA) has selected the best new license plate design each year. Last year, the contest was opened to plates from throughout the world, and members of the association chose Michigan's plate from among 12 finalists. This is the second time a Michigan plate was picked; in 1976, the state's bicentennial design was selected as best new plate.
The Mackinac Bridge plate, designed by Michigan Department of Transportation (MDOT) graphic artist Brian Whitfield, was unveiled in August 2012. More than 112,000 of the new plates – available for new registrations or a replacement of a current plate for an additional one-time cost of $5 – have been sold.