State's new Mackinac Bridge license plate on sale today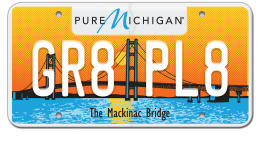 State's new Mackinac Bridge license plate on sale today, just in time for 56th Annual Bridge Walk
Commemorative license plates will be available for purchase at the Bridge Walk
It's official! The state's newest license plate, featuring one of Michigan's best known landmarks, the Mackinac Bridge, is now available for purchase at all branches, Secretary of State Ruth Johnson announced today.
The plate features the imposing Mackinac Bridge – at five miles long it's the longest suspension bridge in the western hemisphere – against a colorful sunrise and the deep blue waters of the Straits.
"The Mighty Mac is a symbol of American ingenuity and has a place in the hearts of Michiganians," said Johnson. "It doesn't matter how many times you've seen it, that moment when it comes into view, it's still breathtaking."
Gov. Rick Snyder, who will lead thousands of Michiganians at the yearly Mackinac Bridge Walk on Monday, said the new plate captures both the state's Pure Michigan brand and the landmark's beauty.
"The Mackinac Bridge connects us all, brings us together," Snyder added. "Having its image on the plate reinforces our Pure Michigan brand, which fosters economic growth, job creation and tourism. Like the bridge, it brings people together."
Representatives from Johnson's office will sell commemorative Mackinac Bridge plates for $10 at a special booth near the bridge on Monday. They'll also hand out magnets
commemorating the release of the new plate. Last year, 45,000 people participated in the annual Bridge Walk.
Bob Sweeney, Mackinac Bridge Authority executive secretary, said he believes the new plate captures the beauty of the bridge and will likely be popular with Michigan drivers.
"When it opened in 1957, the Mackinac Bridge was truly a feat of engineering and it continues to stand as a huge testament to innovation and determination," Sweeney said. "There's no more recognizable symbol of Michigan than the Mackinac Bridge."
The Mackinac Bridge plate will gradually replace the state's Spectacular Peninsulas plate, first issued in 2007. It also features the state's Pure Michigan branding. The new Mackinac Bridge plate costs $5 in addition to regular registration fees.
As with other Michigan license plates, the new Mackinac Bridge plate will be made by prisoners at a correctional facility in Adrian. For more information about Secretary of State office locations and services, visit www.michigan.gov/sos. Sign up for the official Secretary of State Twitter feed at www.twitter.com/michsos and Facebook updates at www.facebook.com/michigansos.