NASCAR champion stops at Bridge View Park May 29
NASCAR champion stops at Bridge View Park May 29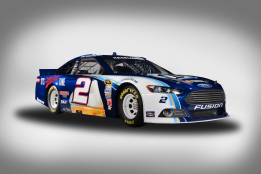 NASCAR roars into the Straits of Mackinac! NASCAR Sprint Cup Champion Brad Keselowski and the No. 2 Miller Lite Ford Fusion, also known as the "Blue Deuce," will be featured in a special public event at the Bridge View Park in St. Ignace on Wednesday, May 29. The event is hosted by the Mackinac Bridge Authority (MBA), in cooperation with the Michigan Department of Transportation (MDOT) and Michigan International Speedway (MIS).
Traffic will temporarily be stopped while the Blue Deuce crosses the Mackinac Bridge on the way to the 6:20 p.m. public event. All NASCAR fans, media outlets, and members of the public are invited to attend. Media interviews with Keselowski will be available upon request. The Blue Deuce will be on display at the park during the event, so the public is encouraged to bring their cameras.
MBA officials will light the bridge blue at dusk on May 29 in recognition of the Pure Michigan icons. All costs for the lighting and public event are being paid for with private donations. No toll money or taxpayer dollars are being used for this event.
Keselowski is the first Michigan native to become the NASCAR Sprint Cup Champion, the premier stock car motorsports title in the world.