Mackinac Bridge Authority mourns passing of Charles "Chick" Fisher III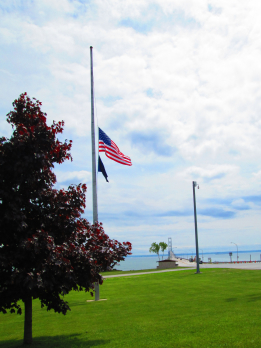 Flags will be flown at half-staff through sunset Thursday at the Mackinac Bridge in honor of long-time former chairman and authority member Charles T. "Chick" Fisher III, who died Sunday, June 15.
Fisher, former chairman, president and CEO of NBD Bancorp, Inc., began 30 years of service on the Mackinac Bridge Authority (MBA) board in 1967. He was chairman of the authority from 1974 to 1997, a tenure that included the Mackinac Bridge's 25th anniversary in 1982.
"The Mackinac Bridge Authority, and indeed everyone who has ever crossed the bridge, owes Chick and the entire Fisher family a debt of gratitude," said MBA Board Chairman William H. Gnodtke. "Only one board member, Murray D. Van Wagoner, and one chairman, Prentiss M. Brown, served longer than Chick."
Fisher's father, Charles T. Fisher, Jr., was one of the MBA's original board members and vice-chairmen, serving from 1950 to 1958. His mother, Elizabeth Briggs Fisher, served on the board from 1958 to 1967.
Visitation will take place on Wednesday, June 18, from 6-8 p.m. at Chas. Verheyden Funeral Home, Inc., in Grosse Pointe Park. Funeral services will be Thursday, June 19, at noon at St. Paul on the Lake Catholic Church in Grosse Pointe Farms.